invention
Orientation/ Wake up Aid
The invention is a wake-up aid for dementia patients.
Sensors are attached to the bed of the person with dementia that allow physiological data to be measured. The playback device with wake-up detector supports the person in remembering life circumstances and helps to orientate again after sleep.

Short description of the invention
The sensors of the wake-up aid are attached to the patient's bed and record relevant physiological parameters such as heart rate variability (HRV) and the ECG (electrocardiogram), which measures the electrical activity of the heart.

This automatically activates a playback device immediately after a person with dementia wakes up. This playback device is used for activation and memory care after awakening and sends acoustic or also visual signals and messages that enable the person affected to remember information that is already known and familiar.

In this way, the orientation aid can also go hand in hand with fall prevention by shortening the phase of disorientation after awakening. The person can collect him/herself before trying to get up.

The playback of visual or audiovisual information can be done by an integrated display or by an external display, e.g. a conventional smartphone, a PC or a tablet PC. However, a television set can also be connected.

Advantages of the invention
Benefits
Simple and reliable activation
The player activates automatically and reliably as soon as the person shows signs of waking up.

contactless function
The method works contactless and without sensors being firmly connected to the person. No cumbersome electrode arrangement on the patient's head and no great equipment effort are necessary.

Transmission of personalised/individualised information
The wake-up detector automatically conveys certain individually selectable and storable information with a personal reference. These are familiar to the person and are intended to activate the memory, such as the person's own name, the names of the persons caring for them or those of their own children. Information on the current whereabouts or orientation aids such as the way to the toilet can also clearly help the patient.

Effective and inexpensive
Easier to install and less expensive than complex alternative methods; Concrete activation effects are shown in contrast to conventional emergency call systems and dementia location systems.

Growing target group / increased need for solutions
The number of dementia cases and thus the target group for the dementia training tool is increasing: The number of affected persons will increase in Germany alone. The reason for this is demographic developments and approximately 3 million affected persons are expected by 2050. 

Type of protection: GER Patent
Reference number: DE 10 2013 103 955 B3
Date of registration: 18.04.2013

Main claim: A playback device for detecting a waking of a patient and for a subsequent automatic presentation of a specific acoustic information, comprising: - an ECG amplifier (11) for detecting an ECG signal of the patient, the ECG amplifier (11) having an input for connecting lead electrodes (3);- an HRV detector (21) for evaluating the ECG signal to thereby generate an HRV signal corresponding to a hertz rate variability (HRV); characterized by- a wake-up detector (22) for evaluating the HRV signal to detect therefrom the waking-up of the patient and to thereby generate a wake-up signal - a playback unit (24) to which the wake-up signal is transmitted and which is designed to retrieve the specific information from a memory after reception of the wake-up signal and to output or present it acoustically, wherein the playback unit (24) is designed to also retrieve and present visual information after reception of the wake-up signal.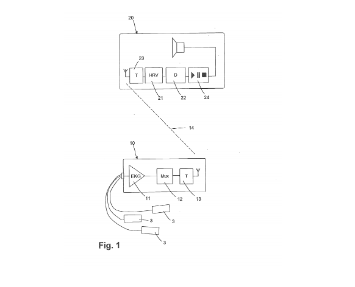 Fig.1
shows a first embodiment of a playback device comprising a first device unit with connected lead electrodes and a second device unit with an HRV and a wake-up detector with a playback unit.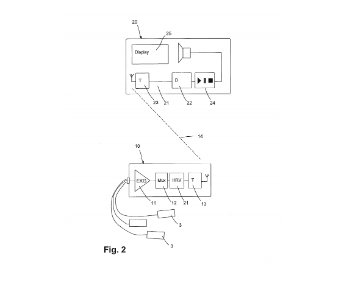 Fig.2
shows a second embodiment of the playback device comprising another first device unit with connected lead electrodes and integrated HRV detector, and further comprising another second device unit essentially with the wake-up detector and the playback unit.

Fig.3
shows a preferred embodiment of a dissipative electrode mat

ARE THERE ANY OPEN QUESTIONS?
DO YOU REQUIRE FURTHER INFORMATION?
We would be happy to provide you additional information material or clarify open questions with the inventor for you. Simply contact us and we will be happy to support you.

Contact us
JMW INNOVATION GMBH
jmw Innovation GmbH has been successfully implementing and marketing ideas at two locations (Salzburg/ Berlin) for over 20 years. Thanks to our many years of networking, our passion for new ideas and our experienced employees, we are THE first point of contact for new ideas in the German-speaking world.

Website
www.erfinderberatung.com
© 2022 All rights reserved.